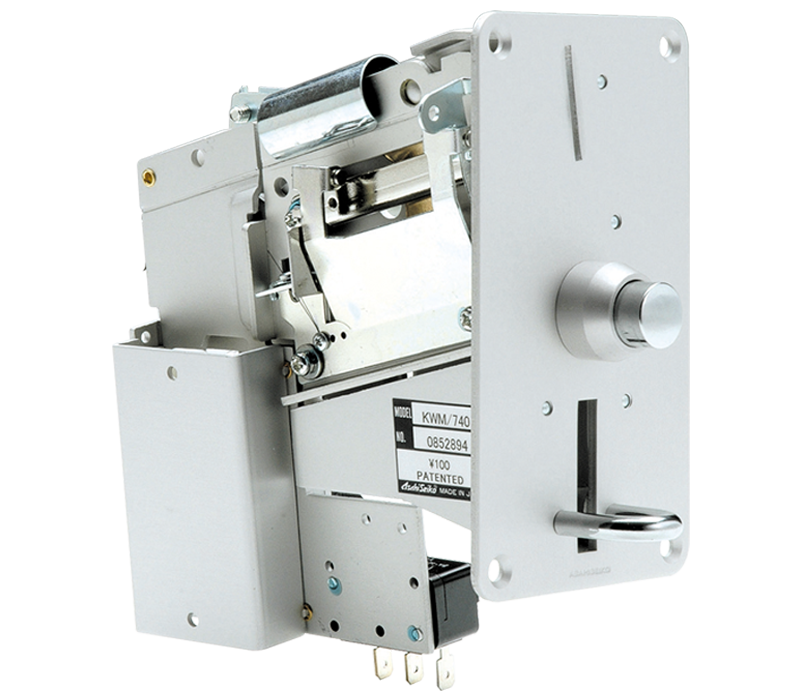 MODEL

KWM/740

VERSATILE.
THIS MODEL ACCEPTS COINS RANGING FROM 17.9mm TO 33.0mm IN DIAMETER.
FEATURES
ACCEPTS LARGER DIAMETER COINS
The KWM/740 and-W both accept coins, up to 33mm in diameter allowing for a wider range of coin application.
The KWM/740-W allows for dual coin acceptance or dual player action in single denominations.
LIGHT WEIGHT
Employing surface-treated aluminum throughout the majority of these units has allowed this model to be widely utilized for its lightweight and rustproof properties.
MECHANISM CUTS OUT FRAUD
Unlike similar models on the market; we have incorporated our standard fraud prevention mechanisms that cut out stringing, leaning and coin flipping in order to increase cash box profits.
OTHER MODELS IN THIS SERIES
Model KWM/740-W : Double Front Plate ACCESSORIES
Model KWM/740-L: Long Plate
Model KWM/740-C: Front Plate with Stainless cover plate
GENERAL SPECIFICATION
| | |
| --- | --- |
| Applicable Coin Sizes | Diameter : 17.9mm~33.0mm Thickness : 1.0mm~2.3mm |
| Selection Method | Mechanical (diameter, thickness) |
| Fraud Prevention | (1)Check Lever (2)Cotton and Wire Checker (3)Lean Stopper |
| Position in Use | Upright or within 2℃ in any direction |
| Acceptance Speed | 0.5 seconds |
| Validation Method | Microswitch |
| Operating Temperature | -10°C~+60°C |
| Dimension | 115.0(H)×64.0(W)×140.5mm(D) |
| Weight | approx. 300g |
back