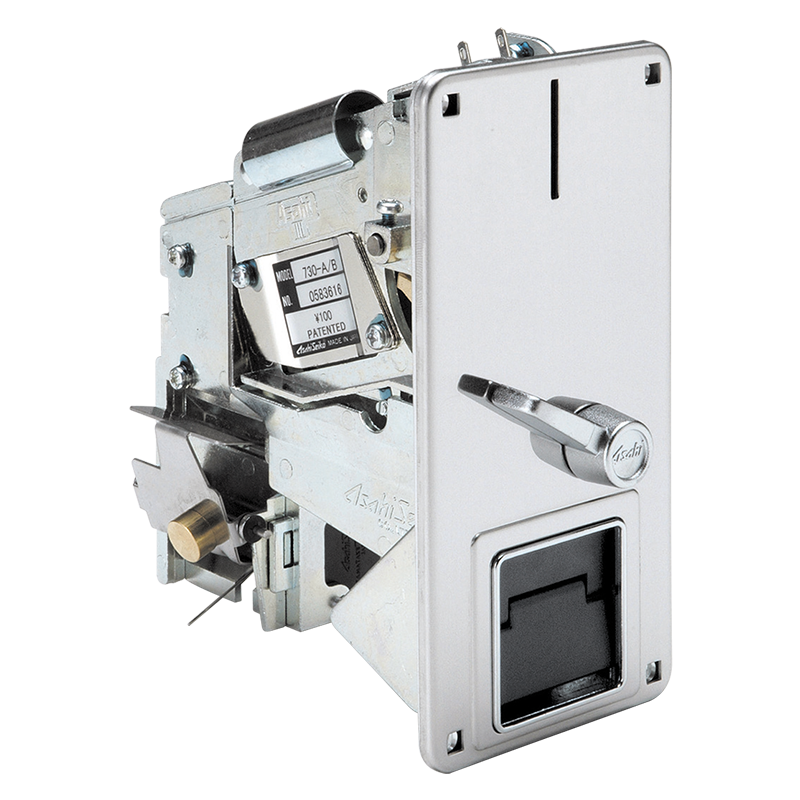 MODEL

730-A/B

PREVENTS FURTHER CHEATING BY THE USE OF A STEEL FLAP OVER THE REJECT OUTLET AND IS AVAILABLE FOR DUAL COIN APPLICATIONS.
FEATURES
The 730-A/B and A/B-W maintains the same outstanding qualities as the Model 730-A,  We have added a stainless steel front plate and a reject outlet, protected by a steel flap, for applications that require a more aesthetic appeal and flush appearance.
The 730-A/B-W allows for dual coin acceptance or dual player operation. If your machine calls for the acceptance of two denominations, this selector will accommodate your requirements by allowing one denomination on the right the other on the left. If you have dual player options, of the same denomination, that too can be accommodated by utilizing this model.
OTHER MODELS IN THIS SERIES
ACCESSORIES
Finger Protection: Model QL-203 (12V DC, 24V DC)
GENERAL SPECIFICATION
| | |
| --- | --- |
| Applicable Coin Sizes | Diameter: 21.0mm~27.0mm Thickness: 1.5mm~2.3mm |
| Selection Method | Mechanical (diameter, thickness and material) |
| Fraud Prevention | (1)Wire Checker (2)Check Lever (3)Cotton Checker |
| Position in Use | Upright or within 2°C in any direction |
| Acceptance Speed | 0.5 seconds |
| Validation Method | Microswitch |
| Operating Temperature | -10°C~+60°C |
| Dimension | 132.0(H)×64.0(W)×130.5mm(D) |
| Weight | approx. 610g |
back