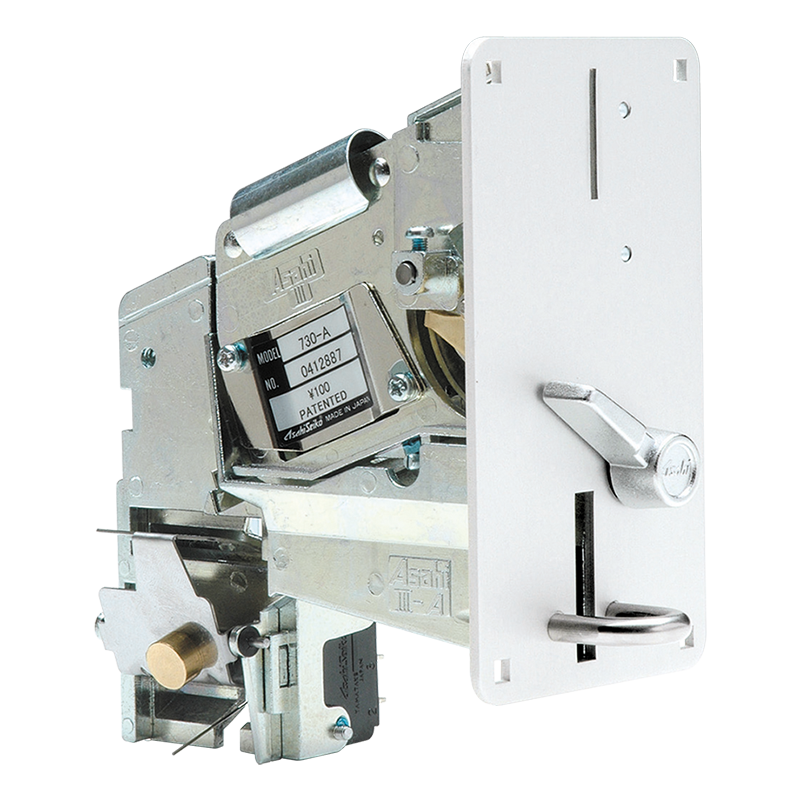 MODEL

730-A

MECHANICAL FRONT-TYPE SELECTOR FOR A WIDE RANGE OF APPLICATIONS,
WITH HIGH ACCURACY IN REJECTING SLUGS AND PREVENTING OTHER TYPES OF CHEATING.
FEATURES
The 730-A is a best seller among front-style selectors and is most commonly used in the amusement industry in bar-top trivia and redemption games. Its rugged, surface-treated aluminum front plate holds up to constant play and its accuracy secures your bottom line.
This mechanical coin selector identifies coins by checking diameter, thickness and material, as well as preventing stringing by addition of a wire and cotton-checking device.
OTHER MODELS IN THIS SERIES
Model 730-A/F37 : front plate=W40.0mm×H117.0mm
ACCESSORIES
Coin Return Cover : Prevents the ability to  "flick" coins up through the exit point.
GENERAL SPECIFICATION
Applicable Coin Sizes
Diameter : 21mm~27.0mm  Thickness : 1.5mm~2.3mm
Selection Method
Mechanical (diameter, thickness and material)
Fraud Prevention
(1)Wire and Cotton Checker
(2)Check Lever
(3)Limit Lever
Position in Use
Upright or within 2°C in any direction
Acceptance Speed
0.5 seconds
Validation Method
Microswitch
Operating Temperature
-10°C~+60°C
Dimension
115.0(H)×64.0(W)×141.3mm(D)
Weight
approx. 520g
back