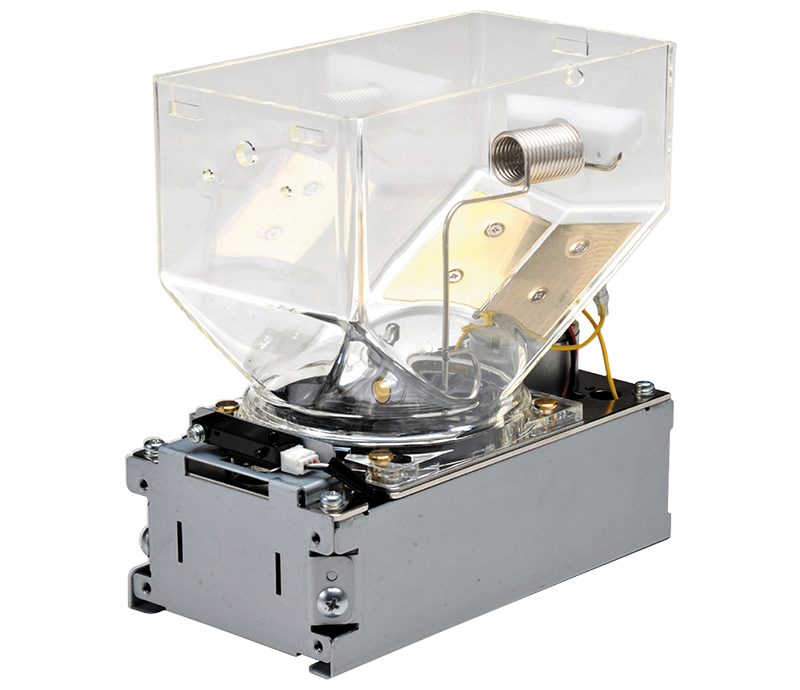 MODEL

FV-525

Adjustment-free compact payout hopper can dispense coins within the applicable size range without adjustment.
Features of FV-525
Coin Payout Hopper can keep operation without adjustment if the changed coin sizes are within the applicable size range, which liberates you from cumbersome tasks. Dedicated hoppers and other parts for each coin size are not necessary and  very economical.
The proven payout mechanism securely dispenses every last coin. This low-cost compact hopper suites small space and various purposes.
Other models in this series
GENERAL SPECIFICATION
Applicable coin sizes
Diameter: 21.0mm-26.0mm
Thickness: 1.55mm-2.3mm
Dispensing speed
Approx. 500 per minute
*The dispensing speed may differ depending on the coins to be used.
Coin capacity
25Ȼ coins (24.3mm×1.6mm): Approx. 500 pcs
Counting method
Photo sensor
Motor voltage
24V DC
Motor rating
Endless
Motor break circuit board
DCMB-0407
Weight
Approx. 1.0kg
back