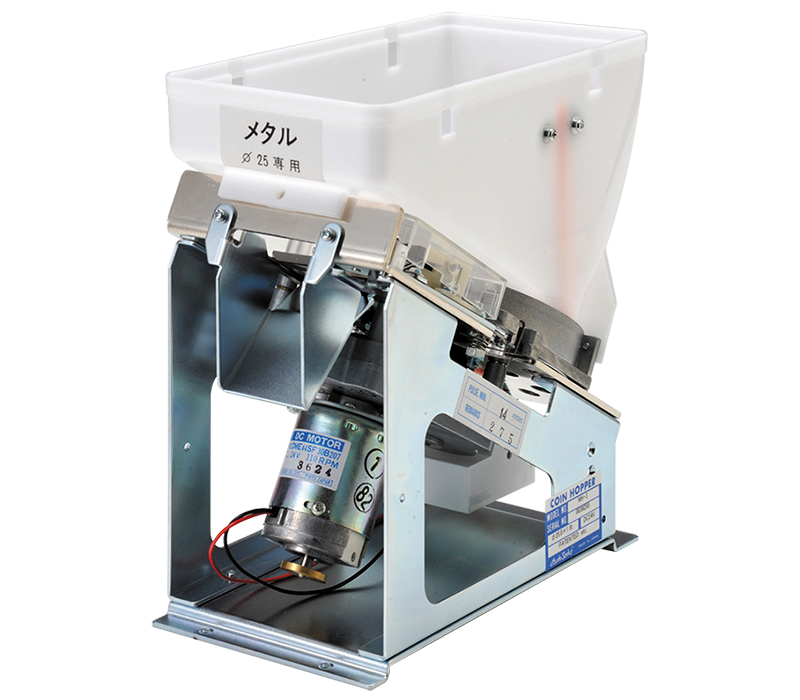 MODEL

WH-3

NARROWEST COMPACT HOPPER CAPABLE OF DISPENSING UP TO 39mm IN DIAMETER.
FEATURES
The WH-3 was developed specifically to handle the large $1(38mm) casino type of token. With a width of only 110mm, the applications for this model are only limited by your imagination.
Developed from our proven WH-1 design, but made to handle a much wider range of coins at a higher speed. It is revolutionary in its ability to dispense large coins and remain so small in size.
GENERAL SPECIFICATION
Applicable Coin Sizes
Diameter : 24.0mm~39.0mm Thickness : 1.6mm~3.3mm
Coin Dispensing Speed
US 25: 625 coins/minute approx. US $1 310 coins/minute approx.
(*)Dispensing speed may vary depending on motor gearbox deceleration ratio, or coin specifications.
Coin Capacity
US 25: approx. 900 coins  US $1 casino size: approx. 220 coins
Counting Method
Proximity Sensor
Motor Voltage
24V
Motor Rating
Endless
Operating Temperature
-10°C~+60°C
Dimension
220.0(H)×110.0(W)×210.0mm(D)
Weight
approx. 2.8kg
back