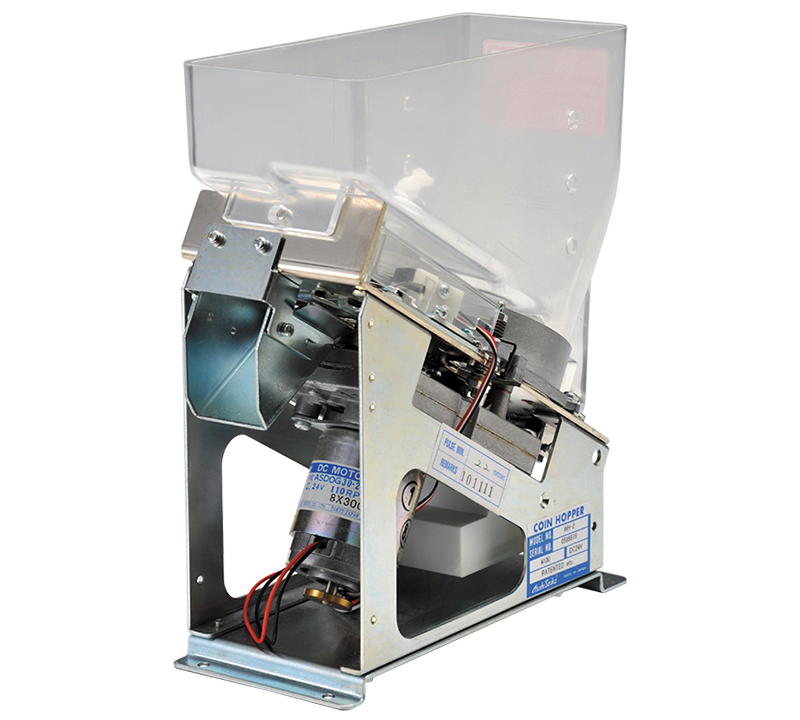 MODEL

WH-2

STABLE PAYOUT HOPPER WITH QUICK RELEASE BAR ON THE HOPPER BOWL MAKES MAINTENANCE EASIER.
FEATURES
The Model WH-2, is 85mm wide and the second most compact hopper in the series. With the design based upon the WH-1 mechanisms, this hopper is most appropriate for amusement machines, change dispensers in various vending machines, and dispensing mechanisms for money changers.
Unlike the WH-1, this model is equipped with a release bar. By simply pushing the release bar, the hopper bowl is disconnected from the base, allowing for easy maintenance.
OTHER MODELS IN THIS SERIES
GENERAL SPECIFICATION
Applicable Coin Sizes
Diameter : 20.0mm~26mm  Thickness : 1.5mm~3.2mm
Coin Dispensing Speed
approx. above 440 coin/ minute
(*)Dispensing speed may vary depending on motor gearbox deceleration ratio, or coin specifications.
Coin Capacity
25mm diameter : 700 coins 22.6mm diameter: 900 coins
Counting Method
Proximity Sensor
Motor Voltage
24VDC
(Note : AC models equipped with thermal protector & instant stop device)
Motor Rating
Endless
Operating Temperature
-10°C~+50°C
Dimension
230.0(H)×85.0(W)×190.0mm(D)
Weight
approx. 2.2kg
back