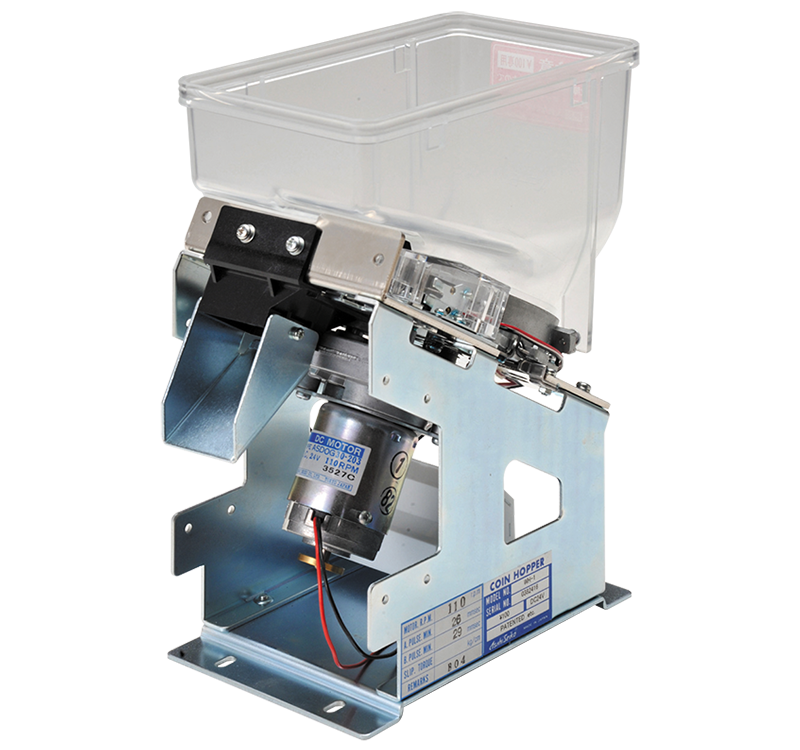 MODEL

WH-1

THE MODEL DISPENSES AT HIGH SPEED, UP TO 600 COINS PER MINUTE.
WITH THE USE OF TWO PROXIMITY SENSORS, IT PREVENTS COIN OVERRUN.
FEATURES
The model WH-1 is one of the most rapid coin dispensing systems in the hopper series. The introduction of a new mechanism, the scraper, has changed the concept of conventional hopper speeds.
The third most compact hopper, with 110mm width, can accommodate more coins and dispense more quickly than the NH-1. This model is also appropriate for amusement machines, change dispensers in various vending machines, and dispensing mechanisms for money changers.
This model is also equipped with an agitation spring which reliably dispenses up to the very last coin in the hopper bowl.
To prevent coin overruns due to high-speed dispensing, the WH-1 is equipped with two proximity sensors, a standard for coin counting in this series. (With only one sensor is also available).
GENERAL SPECIFICATION
Applicable Coin Sizes
Diameter : 21.0mm~27.0mm Thickness : 1.5mm~2.3mm
Coin Dispensing Speed
approx. above 440 coins/minute
(*)Dispensing speed may vary depending on motor gearbox deceleration ratio, or coin specifications.
Coin Capacity
22.5mm diameter : 1,000 coins
23.5mm diameter : 800 coins
26.5mm diameter : 600 coins
Counting Method
Proximity Sensor(2 utilized)
Motor Voltage
24VDC
Motor Rating
Endless
Operating Temperature
-10°C~+60°C
Dimension
250.0(H)×110.0(W)×205.0mm(D)
Weight
approx. 2.7kg
back