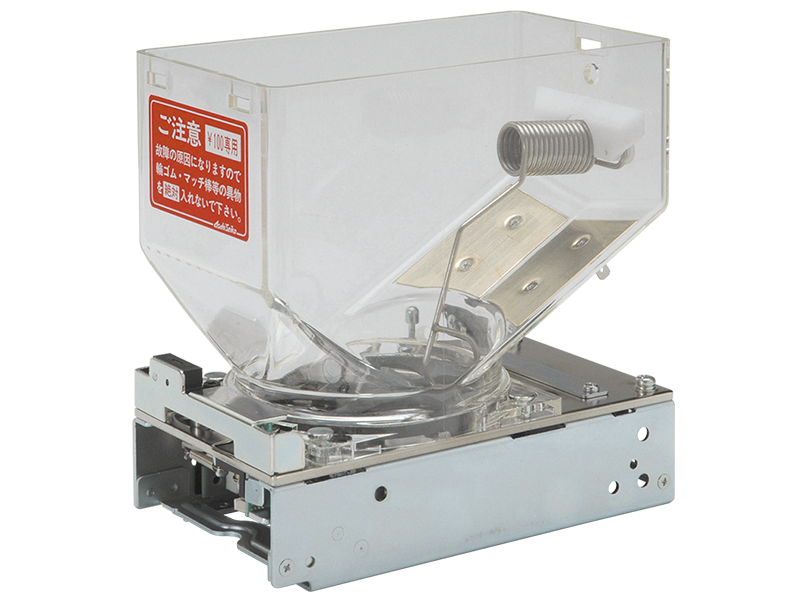 MODEL

SK-595SS

A COMPACT HOPPER WITH HIGH SECURITY; INCORPORATES SECURED AND LONG LASTING BRUSHLESS MOTOR.
FEATURES INCLUDE REVERSE ROTATION THAT REDUCE COIN JAMS.
FEATURES
As with all our products we have obtained a standard of quality and reliability unsurpassed by our competitors. We have incorporated a security noiseless motor, photo-optic sensor and our disc system permits stable pay out, reducing coin jams. To further the life of the motor and assist in clearing coin jams, we have improved our special made noiseless motor.
Incorporating exclusive control board allows different voltage of sensor to operate.  Thus it is easy to set up your cabinet.
To increase durability, our disc is made from sintered metal for long life coin dispensing.
Easy removal and replacement of the hopper is achieved with a slide mount and self-aligning connector.
GENERAL SPECIFICATION
Applicable Coin Sizes
Diameter : 18.5 mm~28.5 mm Thickness : 1.5mm~3.2mm
Coin Dispensing Speed
approx. 360coins/minute*
(*)Dispensing speed may vary depending on motor gearbox deceleration ratio, or coin specifications.
Coin Capacity
approx.650 *
Dispensing Level
37mm
Counting Method
Photo-Optic Sensor
Motor Voltage
24VDC±10%
Operating Temperature
-10°C~+50°C
Dimension
150.0(H)×85.0(W)×167.2mm(D)
Weight
approx. 1.3kg
back