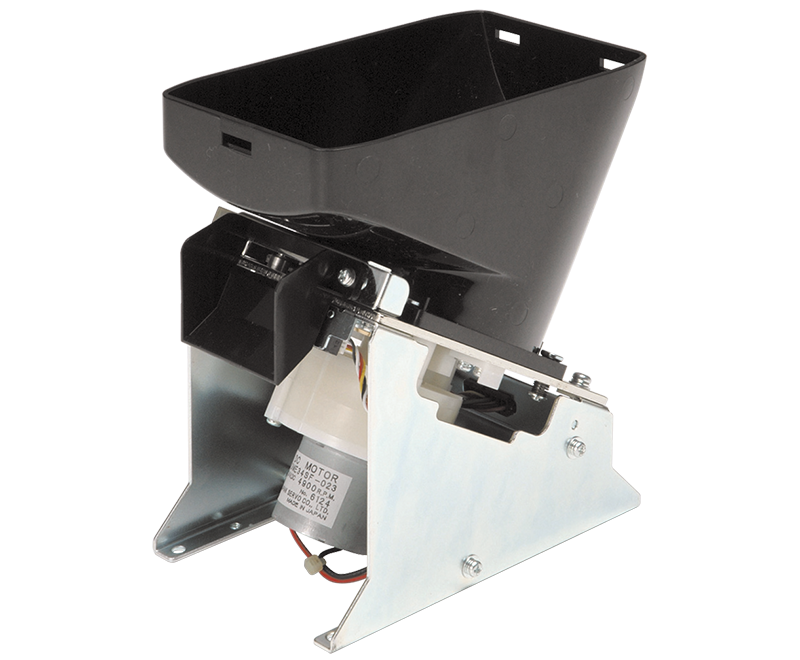 MODEL

SH-400

ULTRA-COMPACT HOPPER THAT INCORPORATES NUMBERS OF FEATURES.
IT IS RELIABLE, EASY MAINTENANCE, AND IT IS COST-EFFECTIVE HOPPER.
FEATURES
The hopper incorporates a cam lever designed to easily allow adjustment to the disc for the appropriate coin thickness. The coin disc is removable to enable conversions from different coin diameters and thickness.
With the automatic DC motor brake and jam reverse mechanism, it allows for stable pay out and reduces coin jams.
The anti-static hopper bowl is easily detached to facilitate cleaning and maintenance.
This ultra compact hopper will hold 400 US quarters and with the option of the bowl extension, you can increase the capacity to 1,000 US quarters.
OTHER MODELS IN THIS SERIES
Model SH-400 : With CCTALK
GENERAL SPECIFICATION
Applicable Coin Sizes
Diameter : 16.5mm~30.8mm Thickness : 1.5mm~3.2mm
Coin Capacity
20.0mm diameter: 700pcs
22.5mm diameter: 550pcs
26.5mm diameter: 400pcs
Coin Dispensing Speed
approx. above 480 coins/minute (varies depending upon the coin)
Counting Method
Optic sensor or Proximity sensor
Motor Control
Dedicated Control Board
Motor voltage
24V DC
Operating Temperature
-10°C~+50°C
Dimension
160.0(H)×96.5(W)×145mm(D)
Weight
approx. 1.1kg
back