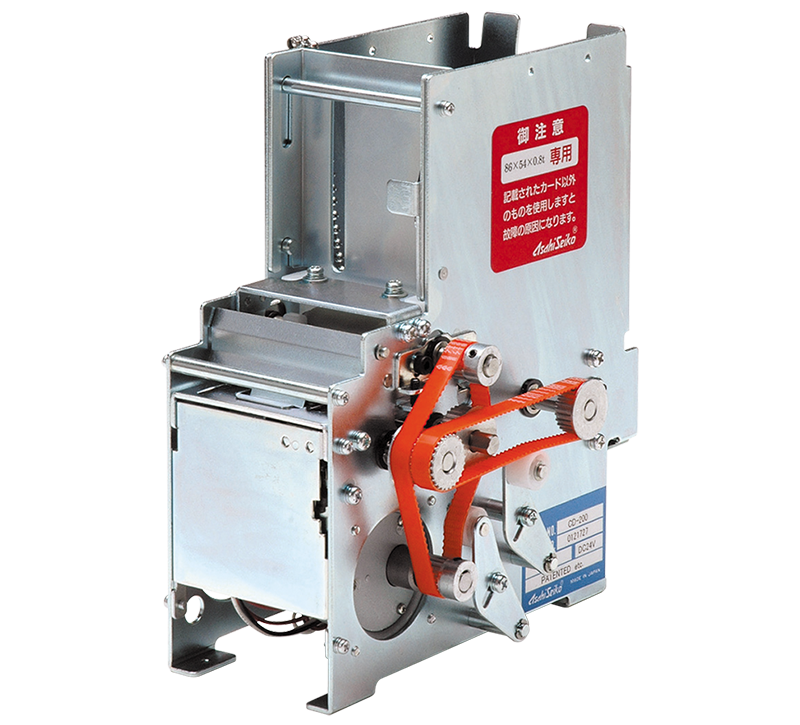 MODEL

CD-200

DESIGNED WITH A NEW CLUTCH AND REVERSE ROLLER,
THE CD-200 PREVENTS THE DISPENSING OF 2 CARDS CONTINUOUSLY OR 2 CARDS STUCK TOGETHER.
FEATURES
With the introduction of the new clutch method, double dispensing is prevented. In addition, dispensing of two sheets stuck together is prevented by the use of the reverse roller. This combination promises a stable card dispensing capability without error. The CD-200 can be utilized widely for various card dispensing applications.
Beneath the base, this model is equipped with an exclusive electronic control board for easy circuit operations. If the card feeding interval is too long (above 4 seconds), the reverse roller circuit will automatically operates and repeat the operation again. The number of times the operation is repeated can be selected with the dip switches.
From 0.15mm(min.) to 0.76mm(max.) in thickness. Please indicate the thickness of card when placing an order.
OTHER MODELS IN THIS SERIES
Model CD-200/12V  The model CD-200 is available also with 12VDC motor specifications.
GENERAL SPECIFICATION
Applicable Cards
Material: Polyester Film Card
Size : 53.0mm~58.0mm×76.0mm~86.0mm
Thickness: 0.25mm(min.)~0.75mm(max.)
Number of Cards Contained*
approx. 200 cards
*(in case of using Japanese Telephone cards in 0.30mm thickness)
Supply Voltage
24VDC±10% or 12VDC±5%
Current Consumption
0.1A (during stand-by) 1.5A Max.(during operation)
Dispensing Speed
approx. 2 seconds per dispense
Place in Use
in the cabinet
Position in Use
Upright or within 2°in any direction
Operating Temperature
-10°C~+40°C
Dimension
180.0(H)×93.2(W)×155.0mm(D)
Weight
approx. 1.8kg
back