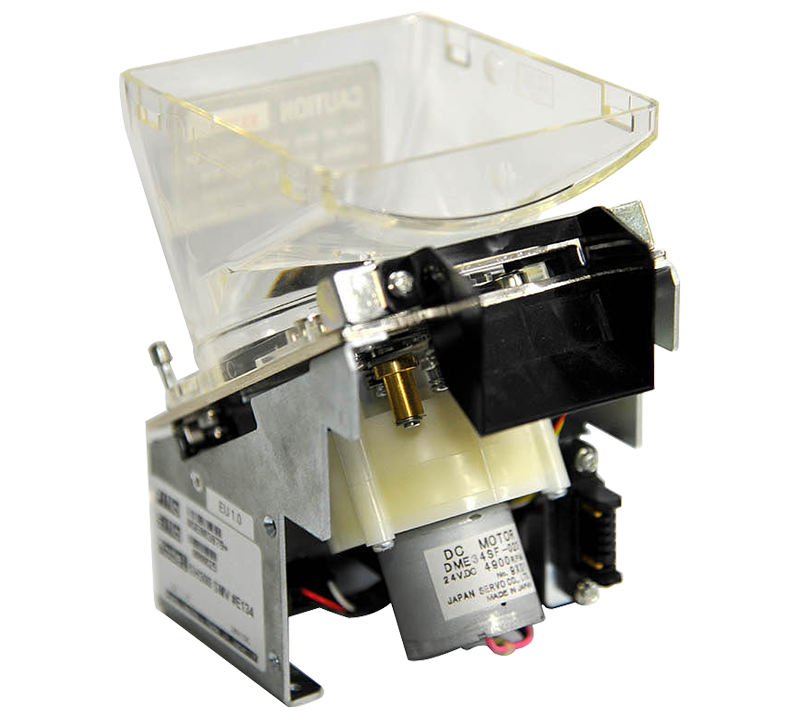 MODEL

SH-300

The SH-300 has been developed from the successful SH-400, to provide an even more compact solution, whilst retaining most of the SH-400's features.
FEATURES
The SH-300 utilizes Asahi Seiko's CCTalk interface as standard, for communication between the Host Control Unit and the hopper.
A choice of coin discs, ensure that the hopper can give Customers total flexibility, whilst retaining high-speed payout and the legendary Asahi Seiko reliability.
A motor brake with automatic reversal under jam conditions, is standard on the SH-300.
A proximity sensor is fitted as standard for coin counting.
GENERAL SPECIFICATION
Coin Size Range
Diameter: *17.5mm - 26.7mm
Thickness: 1.3mm - 3.1mm
IMPORTANT
A selection of coin discs, ranging from 20mm to 27.5mm, isnavailable. To ensure accurate and reliable dispensing, it is important to selectnthe correct disc size to suit the coin used.
*For coins less than 17.5mm diameter, please contact Asahi Seiko (Europe)nLtd Technical Support, as special parts are required.
Hopper Head Capacity
The following table gives examples of average capacities:
20.0mm diameter:260 coins / 22.5mm diameter:170 coins / 26.5mm diameter:190 coins
UK 5p coins 18 x 1.73:290 coins / UK 20p coins 21.43 x 1.75:250 coins / UK £1 coins 22.5 x 3.18:170 coins
Dispensing Speed
The dispensing speed of the SH-300 is 400-600 coins per minute. Speed may vary due to loading and the coin dimensions.
Installation
Temperature range: -10°C to +50°C
Humidity: 15 - 85% RH (avoid condensation)
Location: Indoors within a cabinet
Temperature rise: 50ºC maximum
Orientation: Mount within 2º of upright
Weight
Approximately 1Kg when empty.
Storage Conditions
Storage temperature: -20ºC to +80ºC without condensation
Mechanical Life
In reliability tests, the standard SH-400 hopper dispensed over 2,000,000 coinsnwithout mechanical failure.
back